Your Contao Agency
We've been working with Contao since 2012. We may not have actual superpowers but thanks to over a decade of experience, we're the perfect partner to plan, develop and maintain all of your Contao projects.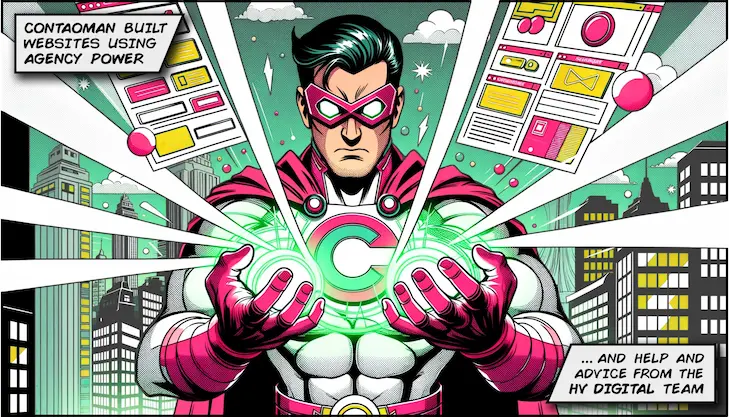 Do you need to develop a website, an app, or a custom extension with Contao?
The open-source platform Contao has grown remarkably from its origins as a simple CMS for accessible websites to an advanced and flexible Content Management System. As a dependable CMS, it underpins a variety of UK websites across multiple sectors: the University of St Andrews, North-Eastern Libraries and Information Network, and Southern Health NHS Foundation Trust rely on Contao for their online presence.
We're an experienced Contao agency and we're here to help with your project.
Reference Projects
Concentric Solutions

Spinner Group
Who are we?
Our UK-based agency develops and supports websites and web apps. Our team of 25 has experience with a wide variety of technologies, and thanks to two decades of experience as a digital agency, we've honed our skills in project management, communication and customer service.
Our agency is owner-managed, which means that our leadership are actively involved in day-to-day projects and operations. Though our main office is in Manchester, our team is proudly international, with team members working in various locations across the UK and Europe.
Our Contao Development Services
Contao
development
Whether it's a corporate website, an accessible web app, or a discussion forum, we can get the best out of Contao to turn your requirements into reality – as your chosen digital agency.
Concept &
design
We develop comprehensive concepts and modern and appealing layouts for even the most demanding projects – individually tailored to your needs and requirements.
CMS selection &
migration
We can help you decide which CMS would be best for your project and migrate your website to – or away from – Contao. We have experience with WordPress, Drupal, Joomla and many other CMS solutions and frameworks.
Support &
maintenance
Need to recover a hacked site? Need to upgrade Contao from an older version? We can help – we also offer support and maintenance services as part of a monthly service plan.
How are we different from other Contao agencies?
We're specialists
We have an in-depth understanding of Contao. We've mastered the intricacies of its architecture, and we know how to leverage its features and capabilities to the fullest, allowing us to create powerful, scalable and SEO-friendly websites.
We're adaptable
Whether you need a custom module, specific functionalities, or unique layout elements, our skilled team has the expertise to create tailored solutions that align with your objectives. Our bespoke approach ensures your Contao site truly stands out.
We're knowledgeable
In addition to Contao, we're experienced with other CMS such as WordPress, Drupal and Joomla, and frameworks like React and Laravel. We'll be glad to explain the benefits of each technology and help you choose the solution that best meets your needs.
We're transparent
We work and communicate transparently, and will be happy to talk openly about our internal processes and involve you in every step along the way. Our aim is to be your digital sparring partner and we'll give everything to help your project succeed.
We're here for you
We believe in forging long-term relationships with our clients and offer comprehensive support and maintenance services, ensuring your Contao website continues to perform optimally and stays updated with the latest security patches and feature upgrades.
Looking for a Contao Agency?
Is Contao the right choice for you?
Choosing the right CMS for your digital project is a big decision. We've been working with Contao for over a decade and although we have a very high opinion of the CMS, with every technology it's important to get a balanced view of its strengths and weaknesses.
Here are some of the Contao features that set it apart from other CMS:
Scalability and Performance
Contao's efficient coding structure and lean architecture make it an outstanding performer, handling large amounts of content with ease. It's a great fit for both small and large-scale projects due to its exceptional scalability.
Built-in SEO and Analytics
Unlike many other CMSs, Contao comes with built-in SEO tools and analytics, enabling users to optimise their website for search engines and track performance right out of the box. This not only saves time but also ensures your website gets the visibility it deserves.
Accessibility and GDPR Compliance
Contao excels in accessibility, meeting all the essential WAI requirements out of the box. Plus, it takes care of GDPR compliance, providing tools to maintain data privacy laws.
There are also some potential disadvantages of Contao when compared to other CMS:
No Out-of-the-box Multilingual Support
Unlike Drupal and Joomla, which have strong multilingual support out of the box, Contao requires additional configuration and modules to support multi-language sites. This can increase the complexity of setting up and maintaining multilingual websites.
Limited e-Commerce Capability
While WordPress has strong e-commerce capabilities with tools like WooCommerce, and Drupal can integrate with a variety of e-commerce platforms, Contao's e-commerce solutions are limited and require further extensions.
Steep Learning Curve
For non-technical users or beginners, Contao might pose a steep learning curve when compared to more intuitive platforms like WordPress. It's powerful and flexible, but mastering its system can take some time and may necessitate some technical know-how.
We're here to provide our clients an unbiased, informed opinion to help them choose the best software for their digital project.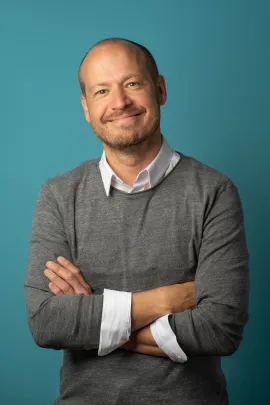 Jonathan Haydon
Agency Owner
(0161) 884 20 39
Let's talk about your Contao project!
Fill out the form and we'll get back to you within one working day. You can also give me a call or send me an email.
Common questions to us as
a Contao agency
Contao is versatile enough to handle both small and large web projects. It's a flexible content management system (CMS) with a straightforward structure that's ideal for small businesses and individual projects. However, its advanced features and expandability also make it suitable for larger, more complex websites.
The Contao Extension List is a repository of numerous extensions developed by the community to extend the core functionality of a Contao site. These extensions range from SEO tools, e-commerce solutions, to advanced content elements, offering a considerable degree of customisation to Contao users.
Contao is well-regarded for its emphasis on security. It has inbuilt features like double opt-in email confirmation and encryption of personal data. However, similar to other CMS platforms, the overall security of a Contao website also depends on regular updates, correct configuration, and adherence to best security practices.
Absolutely, Contao is designed with performance in mind, and can effectively manage high-traffic websites. However, as with any CMS, handling high traffic also requires a well-optimised server environment and careful planning in terms of content delivery and caching strategies.
The costs associated with developing a Contao website can vary, largely depending on the project's size and complexity, the required design and functionalities, and the expertise of the development team. Although Contao itself is free, potential costs can include hosting, domain registration, custom development, extensions, and ongoing maintenance.
Contao's backend interface is designed to be intuitive and user-friendly, making it easy to manage content even for users with little technical knowledge. However, as with any new system, there's a learning curve, but plenty of online resources and community support are available to help users get up to speed.
Looking for expertise in other technologies?
We also work with the following CMS solutions: