Your Symfony Agency
Benefit from our digital expertise and our extensive Symfony experience. Our Symfony developers can help with projects of all sizes and types.
Need a Symfony web application or custom solution?
Symfony, a robust open-source PHP framework, has grown rapidly since its introduction in 2005 and evolved into a fully-fledged, sophisticated tool for web application development. Recognised for its versatility, Symfony is utilised to construct a myriad of web applications across various industries. Major UK organisations like Lush Cosmetics or the BBC as well as global enterprises such as Spotify harness the power of Symfony for their digital endeavours.
Leverage the extensive experience of our Symfony developers. As your dedicated web agency, we are eager to offer our advice and support – for projects both large and small.
Reference Projects
Back-office system for online language school | 2022

We built a robust back-office system for 'Let's Learn a Language', integrating Symfony and Vue.js. This led to a significant reduction in admin workload and contributed to the school's most successful quarter in 2022.

Building an Industry-Level Career Portal for msg systems | 2020

Test

Tasked by msg systems, an IT solutions provider with over 8,500 employees, in 2020 we built a Joomla-based career portal for IT professionals. The portal features 350+ job vacancies and integrates with existing systems for seamless data import/export. The portal's success was confirmed when msg ranked 3rd in a German study evaluating online career presences.
Who are we?
We're a UK-based digital agency specialised in web development. Our team of 25 has experience with a wide variety of technologies, and with nearly two decades of experience, we've honed our skills in project management, communication and customer service.
Our agency is owner-managed, which means that our leadership are actively involved in day-to-day projects and operations. Our main office is located in Manchester, however our team is proudly international, with team members spread across the UK and Europe.
Our Symfony Development Services
Custom Symfony
Applications
Our experienced developers specialise in building custom web applications with Symfony. We create software solutions that are finely tailored to your unique needs, harnessing the power and flexibility of Symfony's framework.
Scalable Enterprise
Solutions
We deliver Symfony enterprise solutions that enable large corporations to scale effortlessly. We build software that caters specifically to your business needs and integrates seamlessly with your existing systems.
Bespoke Bundle
Development
Utilising the modular nature of Symfony, our team creates custom Symfony bundles. These specialised bundles extend the core functionality of your Symfony applications, enhancing their efficiency and usability.
Smooth API
Integration
Our team has substantial experience with APIs and can seamlessly integrate them with your Symfony applications. We develop efficient RESTful solutions to boost the connectivity and functionality of your applications.
Ongoing Maintenance and Support
Alongside development, we offer consistent support and maintenance services after deployment. Our objective is to keep your Symfony application updated, secure, and consistently performing at its optimal level.
How are we different from other Symfony agencies?
We're specialists
Our strength lies in a deep understanding of Symfony and its architecture. This expertise allows us to fully exploit its features, enabling us to develop robust, scalable, and SEO-friendly web applications.
We're flexible
Whether you need a custom bundle, unique functionalities, or distinctive UI components, our talented team has the skills to create solutions that are tailored to your goals. Our bespoke approach ensures your Symfony application stands out in the crowd.
We're knowledgeable
Beyond Symfony, we have experience with other frameworks like Laravel, React, Angular and Vue.js, and CMS platforms such as Drupal, WordPress, Contao and Joomla. We are more than willing to discuss the advantages of each technology and assist you in selecting the solution that suits your needs best.
We're transparent
We operate with complete transparency, welcoming open communication and involving you in every stage of the process. Our goal is to be your trusted digital ally, doing everything we can to ensure the success of your project.
We're here for you
We believe in building enduring relationships with our clients and offer extensive support and maintenance services. This ensures that your Symfony application consistently operates at peak performance and remains up-to-date with the latest security patches and feature enhancements.
Looking for a professional Symfony Agency?
Is Symfony the right framework for you?
Selecting the right framework for your digital project is a significant decision. Having worked on projects with Symfony for many years, we've witnessed its potential on many occasions. Nonetheless, like any technology, it's crucial to assess its strengths and weaknesses thoroughly.
Here are some unique Symfony features that distinguish it from other platforms:
Versatile Components
Symfony's independent and reusable components offer powerful functionality and flexibility. You can leverage these components beyond the Symfony framework itself, making Symfony a versatile choice for a variety of PHP projects.
Exceptional Performance
Symfony is renowned for its exceptional performance, largely due to the introduction of the Symfony Flex, which allows developers to start small and scale up, ensuring only necessary dependencies are included. This makes Symfony a preferred choice for high-performance applications.
Thriving Developer Community
Although it might not be as large as the community of other popular frameworks, Symfony's developer community is active, passionate, and committed. Continuous platform enhancements and a rich ecosystem of bundles (Symfony's term for plugins) extend the functionality of your application.
However, some considerations might encourage you to explore alternatives to Symfony:
Steep Learning Curve
Symfony has a steep learning curve due to its comprehensive and flexible features. Though this flexibility is a strength, it can initially be overwhelming for clients unfamiliar with its structure and concepts.
Bundle Dependencies
While Symfony's reusable bundles are a significant advantage, managing these dependencies can become complex over time, particularly for large-scale projects. Ensuring compatibility and maintaining updates can require more advanced technical oversight.
Object-Oriented Programming
While this isn't a hurdle for our developers, it's worth mentioning that Symfony requires a sound understanding of Object-Oriented Programming (OOP). Its sophisticated structure may not be ideal for projects with a tight schedule or budget, where a simpler, less technical framework might suffice.
Our role is to equip our clients with a balanced, informed perspective to help them identify the most appropriate software for their digital project. We stand ready to guide you through this critical decision-making process.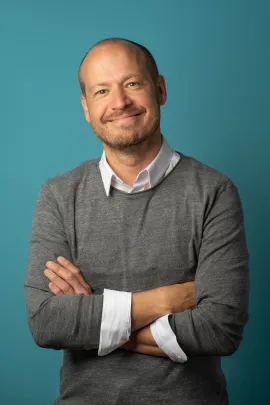 Jonathan Haydon
Agency Owner
(0161) 884 20 39
Let's talk about your Symfony project!
Fill out the form and we'll get back to you within one working day. You can also give me a call or send me an email.
Common questions to us as
a Symfony agency
The Symfony Bundle System offers a wide array of reusable components, or "bundles," that can extend the functionality of a Symfony application. These bundles cover a broad range of features, from form creation and validation to routing and security, providing comprehensive customisation options for Symfony users.
Yes – Symfony is acknowledged for its focus on security and benefits from a dedicated security team who continually work on updates and patches. However, as with any framework, security also depends on its configuration and maintenance, such as keeping Symfony and its bundles updated and adhering to best security practices.
Definitely! Symfony excels in larger, more complex projects. Its robust features and scalability make it a great fit for high-traffic, intricate web applications. Numerous global organisations and large businesses use Symfony for their digital platforms.
While Symfony is well-known for handling complex and high-traffic applications, it's also suitable for smaller projects. Symfony's flexible and scalable nature allows it to power a wide range of web projects, from simple websites to complex web applications and platforms. Its adaptability stems from its robust core components and the vast array of bundles available.
The cost of a Symfony web application can vary significantly based on the project's complexity, required design, and functionality. While Symfony itself is free, associated costs can include hosting, domain, custom development, and maintenance.
While Symfony might initially seem complex due to its vast array of features and flexibility, it offers a highly customizable and powerful system once mastered. While its learning curve might be steeper than some other frameworks, its flexibility is a significant advantage. Furthermore, the Symfony community provides an extensive array of online resources and support for new users, making the management of a Symfony application increasingly efficient over time.