Your Vue.js Agency
Benefit from our digital expertise and our extensive Vue.js experience. Our Vue.js developers can help with projects of all sizes and types
Do you need a progressive framework like Vue.js for your digital project?
Launched in 2014, Vue.js has risen rapidly in popularity owing to its simplicity coupled with powerful capabilities. As a progressive JavaScript framework, Vue.js is utilised by a variety of organisations across different sectors to craft interactive and efficient web interfaces. Notable UK organisations such as the BBC, Just Eat, and Barclays have chosen Vue.js to drive their web applications.
Take advantage of our developers' extensive experience with Vue.js. As your web agency, we are ready to provide guidance and support, no matter the scope of your project.
Reference Projects
Back-office system for online language school | 2022

We built a robust back-office system for 'Let's Learn a Language', integrating Symfony and Vue.js. This led to a significant reduction in admin workload and contributed to the school's most successful quarter in 2022.

Building an Industry-Level Career Portal for msg systems | 2020

Test

Tasked by msg systems, an IT solutions provider with over 8,500 employees, in 2020 we built a Joomla-based career portal for IT professionals. The portal features 350+ job vacancies and integrates with existing systems for seamless data import/export. The portal's success was confirmed when msg ranked 3rd in a German study evaluating online career presences.
Who are we?
Based in the UK, our agency develops web applications, websites and all manner of custom solutions. Our team of 25 has experience with a wide variety of technologies, and with nearly two decades of agency experience, we've honed our skills in project management, communication and customer service.
Our agency is owner-managed, which means that our leadership are actively involved in day-to-day projects and operations. Though our main office is in Manchester, our team is proudly international, with team members working in various locations across the UK and Europe.
Our Vue.js Development Services
Custom Vue.js
Applications
Our proficient developers specialise in crafting custom web applications using Vue.js. We create software that's specifically tailored to your unique needs, utilising the simplicity and flexibility of Vue.js.
Scalable Enterprise
Solutions
Our agency delivers Vue.js enterprise solutions that enable large corporations to scale with ease and efficiency. We develop software that caters to your specific requirements and integrates seamlessly with your existing systems.
Custom Component
Development
Taking full advantage of Vue.js's component-based architecture, our team designs and builds custom Vue.js components. These tailor-made components can extend the functionality of your applications, offering a superior user experience.
API Integration
with Vue.js
Our team, armed with extensive experience with APIs, can flawlessly integrate them with your Vue.js applications. We develop functional RESTful solutions, thereby enhancing the connectivity and versatility of your applications.
Continuous
Maintenance and Support
In addition to development, we provide ongoing support and maintenance services post-launch. Our goal is to ensure your Vue.js application remains updated, secure, and performs at its best at all times.
How are we different from other Vue.js agencies?
We're specialists
Our team has a deep understanding of Vue.js. By leveraging our extensive knowledge of its architecture, we are able to take full advantage of its features, enabling us to create robust, scalable, and SEO-friendly web applications.
We're flexible
Whether you require specific functionalities, custom components, or unique user interface elements, our skilled team can craft solutions that align perfectly with your objectives. Our customised approach ensures your Vue.js application truly stands out.
We're knowledgeable
Beyond Laravel, we have experience with other frameworks like Angular, React, Symfony and Laravel, and CMS platforms such as Drupal, WordPress, Contao and Joomla. We are more than willing to discuss the advantages of each technology and assist you in selecting the solution that suits your needs best.
We're transparent
We operate and communicate with complete transparency, and are always eager to discuss our internal processes and involve you at every stage. Our goal is to be your digital ally, going all out to ensure the success of your project.
We're here for you
We believe in establishing enduring relationships with our clients and offer extensive support and maintenance services. This ensures your Vue.js application consistently operates at peak performance and remains up-to-date with the latest security patches and feature enhancements.
Looking for a professional Vue.js developer?
Is Vue.js the right framework for you?
Selecting the appropriate framework for your digital project is vital. We've worked extensively with Vue.js and appreciate its simplicity and versatility. However, as with any technology, it's essential to evaluate both its advantages and potential challenges.
Here are some characteristics that distinguish Vue.js from other frameworks:
Ease of Use
Vue.js is known for its simplicity and intuitive structure, making it accessible and easy to learn, especially for those familiar with HTML, CSS, and JavaScript. This can result in shorter development cycles and quick prototyping.
Flexibility
Vue.js is designed to be incrementally adoptable, allowing it to be integrated into projects where a full-featured framework might not be necessary. You can use it for part of your project without having to commit to it entirely, offering an outstanding level of flexibility.
However, there are also valid reasons to consider alternatives to Vue.js:
Smaller Community
While the Vue.js community is growing, it is smaller compared to Angular or React. This can sometimes mean fewer available resources, fewer third-party components, and less immediate help when encountering uncommon issues.
Localisation and Language Barrier
Much of the early Vue.js documentation and discussion was in Chinese, as the framework is quite popular in China. While this has improved, some third-party libraries and resources might still be primarily in Chinese.
Our aim is to equip our clients with a balanced, well-informed viewpoint, enabling them to select the most appropriate technology for their digital project. We're here to guide you through this process, ensuring the technology chosen perfectly complements your project's specific requirements and objectives.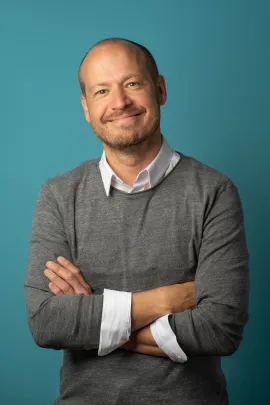 Jonathan Haydon
Agency Owner
(0161) 884 20 39
Let's talk about your Vue.js project!
Fill out the form and we'll get back to you within one working day. You can also give me a call or send me an email.
Common questions to us as
a Vue.js agency
Vue.js components are independent, reusable bits of code that can function independently and can be neatly integrated into existing infrastructures without any disturbance. They help to create custom elements, which web developers can reuse in HTML.
Vue.js itself is secure, but like with any JavaScript framework, security in a Vue application largely depends on how it's used by the developers. Following best practices and guidelines is essential for building a secure web application.
Yes, Vue.js is suitable for larger projects. It's being used by large UK organisations such as BBC, Just Eat, and Barclays. Vue's small size and easy learning curve make it a strong contender for any project.
Although Vue.js gained its popularity as a framework that is easy to pick up and integrate into projects, it's not limited to small-scale projects. It has a robust ecosystem and flexibility that can serve complex applications just as well as simple ones.
The cost of a Vue.js web application varies greatly depending on the complexity of the project, the design and functionality required, and the expertise level of the development team. While Vue.js itself is free, additional costs can include hosting, domain, third-party libraries, custom development, and maintenance.
Vue.js is known for its simplicity and easy learning curve, especially when compared to other major frameworks like Angular or React. It was designed to be easy to understand, which allows for fast prototyping and a smooth learning experience for developers. The Vue.js community provides plenty of resources and support for new users, making it a great choice for those new to JavaScript frameworks.