Your Agency for Web Apps
Benefit from our digital expertise and our extensive experience building web apps. Our developers can help with projects of all sizes and types.
Do you need a sophisticated web app or a seamless online experience?
Web apps have revolutionised how businesses and users interact online, offering dynamic functionality, instant updates, and unparalleled user engagement. They're recognised for their adaptability across devices, ensuring consistent and intuitive user experiences. Major UK companies such as BBC, The Guardian, and Deliveroo have embraced web apps to provide swift, immersive, and reliable access to their services.
Take advantage of our team's experience and expertise developing web apps. As your digital agency, we're here to provide support for projects of all sizes and types. We have experience with the following technologies:
Reference Projects
Back-office system for online language school | 2022

We built a robust back-office system for 'Let's Learn a Language', integrating Symfony and Vue.js. This led to a significant reduction in admin workload and contributed to the school's most successful quarter in 2022.

Building an Industry-Level Career Portal for msg systems | 2020

Test

Tasked by msg systems, an IT solutions provider with over 8,500 employees, in 2020 we built a Joomla-based career portal for IT professionals. The portal features 350+ job vacancies and integrates with existing systems for seamless data import/export. The portal's success was confirmed when msg ranked 3rd in a German study evaluating online career presences.
Who are we?
We're a UK-based digital agency specialised in web development. Our team of 25 has experience with a wide variety of technologies, and with nearly two decades of experience, we've honed our skills in project management, communication and customer service.
Our agency is owner-managed, which means that our leadership are actively involved in day-to-day projects and operations. Our main office is located in Manchester, however our team is proudly international, with team members spread across the UK and Europe.
Our Web App Development Services
Custom Web Applications
Our experienced developers pride themselves on building custom web applications that are tuned precisely to your individual requirements. We can develop a web app that's robust, user-friendly and meets the unique demands of your business.
Robust Enterprise Solutions
For organisations, both big and small, we deliver powerful enterprise solutions tailored to integrate effortlessly with your existing systems. These solutions are designed to be both adaptable and scalable, catering to the dynamic needs of businesses.
Dynamic User Interface
Design
Web apps shine when the user interface is intuitive and engaging. Our team excels in designing and developing user interfaces that not only look appealing but also offer a seamless user experience, ensuring visitors remain engaged and satisfied.
Seamless API Integrations
In the modern digital ecosystem, connectivity is paramount. Our team has a rich history with various APIs, enabling them to smoothly integrate external services into your web apps, thus broadening their functionality and versatility.
Continuous Maintenance
and Support
Development is just the starting point. We believe in standing by our clients long-term, offering a complete range of maintenance and support services post-launch. This ensures your web app is always secure, up-to-date, and operating at peak performance.
How are we different from other web app agencies?
We're specialists
Our team boasts a comprehensive knowledge of the intricacies involved in web app development. This knowledge allows us to build dynamic, user-centric web applications that not only meet but exceed user expectations.
We're adaptable
Whether you're aiming for progressive web apps, single-page applications, or user dashboards, our adept team can deliver bespoke solutions in line with your goals. Our customised approach ensures your web application is distinct and serves your unique needs.
We're knowledgeable
We have experience developing web apps with a range of frameworks, like React, Angular, Laravel and Vue.js, we also work with CMS platforms such as Drupal, WordPress, Contao and Joomla. We'll be glad to guide you through the advantages of each technology, assisting you in picking the perfect solution for your venture.
We're transparent
Openness is key to our process. We believe in clear and ongoing communication, involving you in each phase of the development journey. We see ourselves as your digital ally, doing everything within our power to ensure the success of your project.
We're here for you
Our dedication doesn't end post-launch. We aim for long-term client relationships and offer an extensive range of support and maintenance services. This dedication guarantees your web application remains top-notch, secure and always up to date.
Looking for a professional web app developer?
Is a web application the right choice for your project?
Making the right call about your digital project is pivotal. Web applications can transform your business, offering a range of advantages. However, as with any solution, understanding its benefits and potential limitations is key.
Here are some advantages of web applications:
Platform Independence
Web applications run in browsers, meaning they're accessible from any device with internet connectivity. This ensures that your users can access your services or products without being tied to a specific platform, enhancing reach and convenience.
Cost-Effective Maintenance and Updates
With web applications, updates are made on the server-side. This means users don't need to install updates on their devices. Maintenance is streamlined, and users always experience the latest version without any additional effort.
Easy Scalability
Web applications are built to grow. Whether you're anticipating a gradual increase in user traffic or sudden growth spurts, web apps can scale accordingly, ensuring consistent performance and user experience.
However, there are also some downsides to working with web apps:
Performance Constraints
While web apps are versatile, they might not always match the performance of native applications, especially for resource-intensive tasks. Depending on your app's requirements, a native solution might offer a smoother experience.
Offline Access Limitations
Web apps typically require internet connectivity. If your user base needs consistent offline access to app features, you might want to consider a different approach.
Potential Security Concerns
Web applications are exposed to a broader range of potential threats compared to native applications. While security measures can mitigate these risks, it's important to weigh this aspect, especially for sensitive applications.
Our goal is to provide our clients with a clear, informed perspective, enabling them to choose the best technology for their digital project. We're here to guide and ensure that your chosen solution aligns seamlessly with your project's unique requirements and objectives.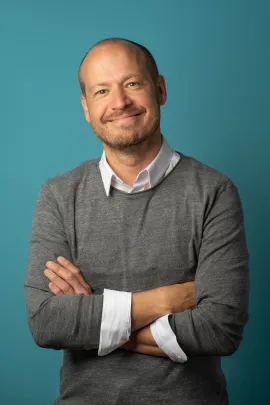 Jonathan Haydon
Agency Owner
(0161) 884 20 39
Let's talk about your web app project!
Fill out the form and we'll get back to you within one working day. You can also give me a call or send me an email.
Common questions to us as web app developers
A web application is a software program that runs in a web browser, allowing users to access and interact with it over the internet. Unlike traditional software which requires installation on a device, web apps are accessible from anywhere with an internet connection, making them highly convenient for both users and businesses.
The security of a web application largely depends on the development practices employed. While web apps can be susceptible to various online threats, following best practices, regular updates, and rigorous testing can significantly reduce vulnerabilities. It's crucial to work with developers who prioritise security throughout the development process.
Absolutely! Web apps are designed to be scalable. They can efficiently support growing user bases, increased data demands, and expanding functionality. From startups to multinational corporations, web apps cater to projects of all sizes.
No. Web applications are adaptable. While they can power extensive digital platforms, they're equally adept at running smaller projects like personal blogs, portfolios, or local business sites. Their architecture is built to cater to both extensive and compact requirements.
The price of developing a web application varies based on several factors, such as the app's complexity, functionalities, design intricacies, and the experience of the development team. Costs might also encompass hosting, domain registration, third-party integrations, and post-launch maintenance.
Web applications are typically easier to update and maintain than traditional software. Any updates made are instantly available to all users without the need for them to take any action. However, regular monitoring, testing, and updates are essential to ensure optimal performance and security.
Looking for expertise in other areas?
We build custom solutions with the following technologies: